Susan Nichols
Green Subcamp Leader
I'm Susan the new Green Sub Camp Leader. This is my third adventure camp, my first being on Arran. Each time I have been a leader on Green Sub Camp.
Adventure camp is great fun. You will get the opportunity to experience loads of new activities, challenges and make new friends.
Top tips- practice pitching your tents (you might have to do this in the dark), plan your menus so you know that everyone will get something to eat, prepare for all weathers (last year we needed woolly hats and sun cream) and go to sleep when we tell you! You will enjoy the activities even more if you have some rest.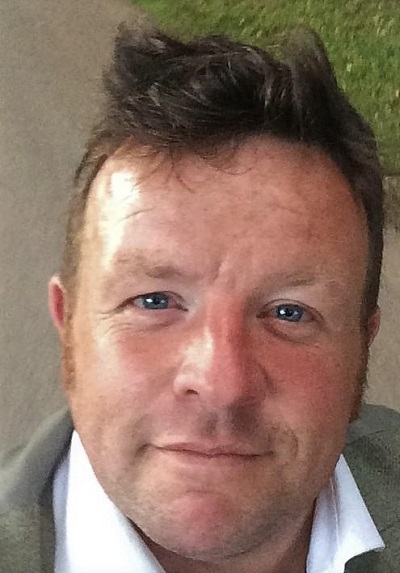 Dougie Woodrow
Purple Subcamp Leader
My name is Dougie and I have the pleasure of looking after Purple subcamp with my team of Rhona and Chris.
We have all been to adventure camps before and my first adventure camp was on the island of Bute which I attended as a participant in... sufficed to say it was a while ago.
I have been to adventure camps all over Scotland but my favourite location was Meggernie in Glen Lyon where I ran the pioneering activity and wide game. We built a working drawbridge and introduced the world to 'love your log' and '999 log rescue'.
I have seen all types of weather at adventure camps so come prepared for the worst and we will make sure you have a great time whatever nature throws at us. Plenty of food is the key... and spare socks... and waterproofs, and a good tent... you get the picture.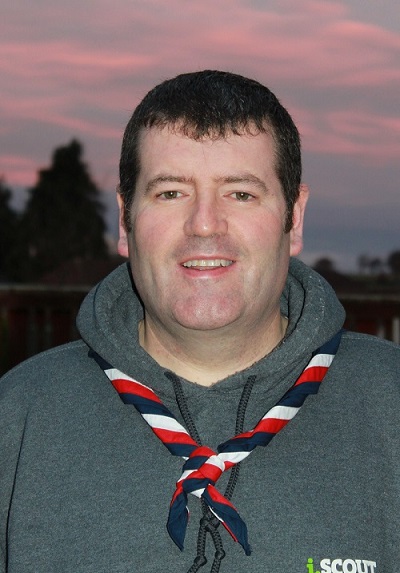 Andrew Sharkey
Blue Subcamp Leader
I am currently an Explorer Scout Leader and Group Scout Leader at Lanark Scouts. In addition I am Cheif Comissioner of Scotland at Scouts Scotland.
I have attended the Adventure Camps since 1995 on Arran. I have filled a number of roles at the camp from instructing rock climbing, leading walks and leading a group on the massive challenge hike activity at Tomintoul in 1997.
I have been a subcamp leader since 2008 and my favourite site has been either Mull or Dalmeny House.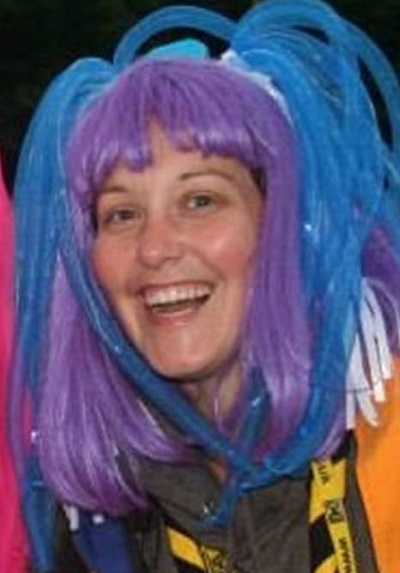 Anne
Red Subcamp Leader
My first Adventure camp was back in 2000, since then I've with helped and ran a few different activities before moving into subcamp. This will be my 8th year in the red subcamp, I now even have wellies to match the subcamp.
In my experience Adventure Camps can be hot (bring sun cream and a hat), it can be cold (plenty of layers is a must) it can be dry or it can be wet (wellies and occasionally snorkels), it is Scotland we're camping in after all. I love that everyone is different and it makes it very difficult to put my finger on a favourite. I love that the campsites are always in beautiful locations, I especially like the excitement of the ferry on the Island adventures.
My favourite thing about being a subcamp leader is working with a great team, meeting new Scouts and helping them over the course of the weekend.
My 3 tips for Adventure camp are:
1. know how to put your tent up in the dark when it's raining and blowing a hooley
2. have your torch in your pocket for when you arrive
3. Eat the soup, it's soup flavour and it's the best soup you'll have all year
Come ready for and Adventure and above all, have fun!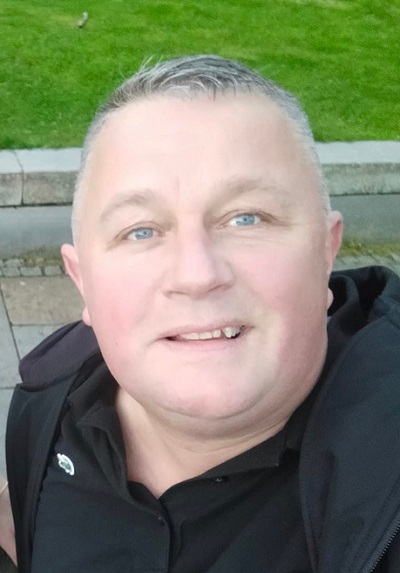 Steven Riddell
Yellow Subcamp Leader
I'm an assistant scout leader at the 9th Dunipace scout troop in Falkirk district.
My first adventure camp was in 2007 at Strathallan castle, yip the T in the park place. We were there first! I missed the next year on Mull and have been present since.
I ran lots of different activities my first few years at adventure camp. From scuba diving at Dalmeny house in 2009 to indoor ice climbing at Spean Bridge in 2010 and power blocking the last time we were at Arran in 2011 and back at Dalmeny 2012.
Since 2013 at Kincraig ive been involved with running subcamp i was in the purple subcamp 2013 and 2014 and in 2015 was given the chance to take over the mighty yellow subcamp where ive been since.
My favourite location was at the Glen Taner Estate in Aboyne in 2016
I love the excitement of the ferry for island camps i like the anticipation of the road trip for a highland camp and the accessibility of a lowland camp. All the adventure camps have their own personalities and challenges but all offer brilliant opportunities to meet new people and have great fun. The best peice of advice i can give u for camp is bring lots of warm socks cosy feet means happy scouts Im looking forward to welcoming you to the mighty yellow subcamp for what will become one the highlights of your camping year.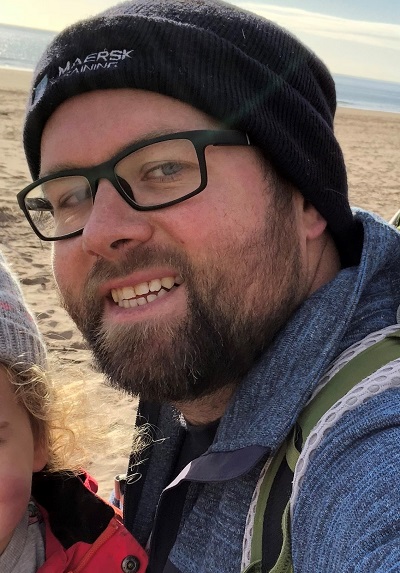 Craig Fleming
Orange Subcamp Leader
My name is Craig, and I am the new leader of the Orange Subcamp for 2019. I was a subcamp leader for the first time last year.
My first adventure camp was the Royal Adventure in Braemar in 2002. Since then I have been an activities leader at several camps, a highlight being a glorious weekend of weather in Arran, running frisbee golf.
Any of the island camps are personal favourites. The last leg of the journey being on a ferry really adds an extra layer of adventure, remoteness and logistics. Especially trying to find your bag at the other end! Every camp is brilliant though, I've never been to an adventure camp I've not thoroughly enjoyed.
Finally, my best bits of advice for coming to an adventure camp are to expect winter, summer and everything in between, woolly hats and sun cream are essential. Adventure camp moves pretty fast. If you don't stop and look around once in a while, you could miss it.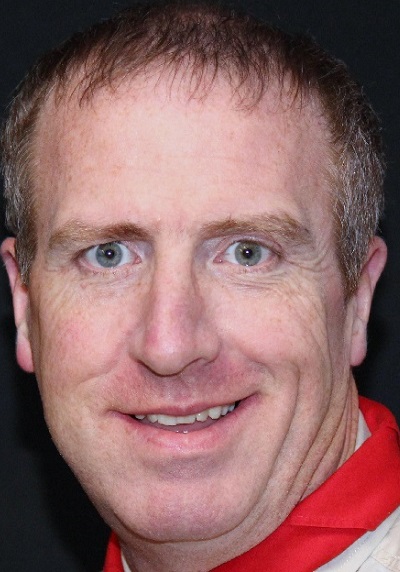 George Walker
White Subcamp Leader
I'm George and the new subcamp leader for White Subcamp.
After visiting Lowland at Dalmeny House in 2012, I was immediately "hooked" on the Adventure camp idea, and have attended every camp since 2013. Duart Castle at Mull (2014) was my favourite location despite the poor weather.
I am Group Scout Leader at the 5th Dundee (Downfield) and am delighted to have the chance to be a part of White Subcamp once again, having previously assisted in Purple, Red and Green . Hopefully that experience along with that of a SCL at Blair Atholl Jamborette will help!
"Be prepared" for all weathers, keep your tent and surrounding area clean and tidy, and most of all enjoy yourselves and make new friends!
Frequently Asked Questions
Some common questions and answers about the adventure camp are below, we hope these are of some use
No there is no requirement for leaders to attend however, they are responsible for transporting scouts to and from the site (or ferry terminal for island camps). Leaders who do wish to attend can only do so by completing the staff application form.
All scouts attending will be split into 6 subcamps. Each subcamp has a subcamp leader with a team that are responsible for looking after the scouts. When on activities we have activity leaders in place who will look after the scouts.
Scouts are expected to supply food and cook for themselves, this is why the age limit for the camp is 11+, however soup is provided after activities as well as supper on Saturday & Sunday evenings.
Cooking equipment must be brought as part of the group kit list which is distributed a few weeks before the camp.
Unfortunately not. However, we will aim to give all scouts a balanced and varied programme, there will be drop in sessions each evening which will give scouts the opportunity to try some activities they have not been allocated to.
This is a decision you as the leader really needs to make! The camp is advertised as 11+ because the scouts should be self sufficient but if you feel the scout under 11 will cope then we will accept them.
Yes, this is issued a few weeks before the camp and will be available on the Downloads page after the closing date.
Unfortunately after the closing date no more applications will be accepted.
Young leaders can not attend, all staff need to be 18 at the time of the event.
No not at all. As long as transport is arranged to and from site they can join in when they arrive or finish an activity early. Please ensure you let us know so we can ensure the scout is allocated to an onsite activity.
No the camp starts at the ferry terminal